In June 2022, TriFinance, TriHD, and TriTechnology surveyed more than 100 executives to understand their approach to the talent crunch and the transformations in their organizations. We also investigated to what extent sustainability is impacting the growth of their business.
When asked which risks will have the greatest impact on their company, talent shortage came out on top. One in two C-level executives flagged the talent crunch as the main risk. That's especially true for executives of large corporations. SMEs with less than 100 employees, however, mentioned economic crises, disruption of supply chains, and inflation as major risks.
Sustainability as a trump card in the talent war?
The survey showed a clear correlation between the maturity level of a company in the field of sustainability (CSR, ESG) and the difficulty of filling vacant positions. Organizations that put sustainability high on the corporate agenda find it easier to attract the right people.
That finding contrasts sharply with the fact that only 14 percent of participating executives use CSR to attract talent. Clearly, a working point for the future, although the use of social responsibility and sustainability in recruitment campaigns is not obvious.
Jonas Muylaert, Talent acquisition lead at TriFinance: 'Randstad Employer Branding research confirmed this trend. Job seekers tend to be attracted by CSR initiatives. Sustainability means that companies take up their responsibilities. This is an attractive employee value proposition. The 3 Ps of sustainability for companies are People, Profit, and Planet. Companies putting their employees and the planet first while not forgetting value creation for their shareholders are considered to be more attractive in the labor market.'
Could sustainability be a new method for attracting talent? Jonas Muylaert says companies should be careful about (mis)using sustainability in their employer branding. It could compromise the authenticity of their sustainability approach, ending up being counter-productive.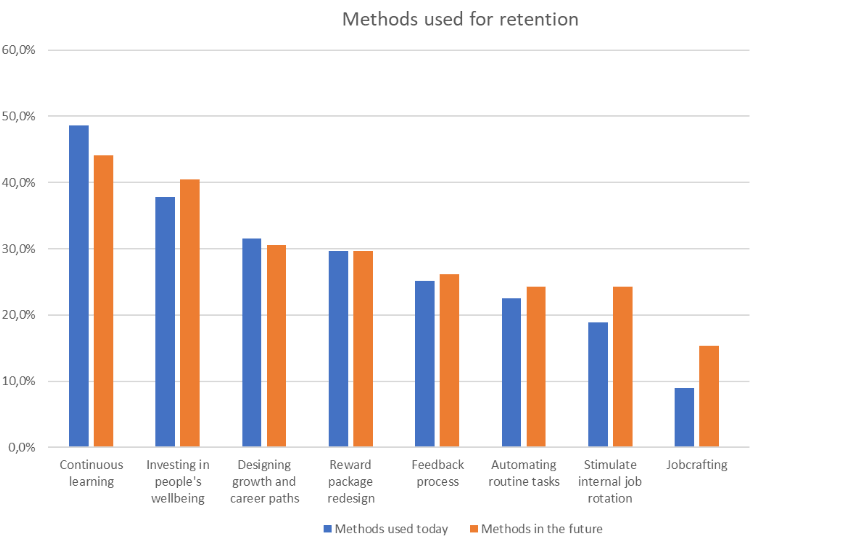 Retaining talent
Next to finding new talent, one of the biggest challenges for organizations is retaining talent. Our C-level respondents don't see huge differences when it comes to retention methods now and in the near future. Continuous learning and well-being remain the most important pillars (4 in 10 respondents), followed by designing growth & career paths and an attractive (total) reward package (3 in 10 respondents). Remarkable is the importance of the feedback process as a retention factor as well.
It seems that the most successful companies in terms of retention are the ones who can put all these pieces together, resulting in an integrated and personalized employee experience, authentic employee engagement and more internal job rotation, which is indicated as a retention factor that will become more important in the future.
Lifelong learning and the need for up and reskilling are where people and business needs go hand in hand
Inge Arys, Talent Manager at TriFinance
Project sourcing and your strategic workforce planning
How can we handle this talent shortage? How can we broaden our supply of talents? Or as Professor Peter Capelli stated: 'should we build, buy or borrow talent?'. One in two of the executives responding to our survey saw one option standing out: engaging freelancers or consultants. One in three is also inclined to hire interim managers. One in four will add insourcing to that and have activities in house performed by external partners.
Large companies with their decision center abroad, in particular, tend towards hiring freelancers as they feel the pressure of the specialist talent shortage more strongly than local SMEs.
The rise of the contiguous workforce is happening right now. We are not talking about a marginal phenomenon anymore, but about a growing population that is extremely relevant and useful for organizations.
But what value does it bring to the table?
Hanne Hellemans, BU leader at TriFinance: 'This result does not surprise me. A few years ago, most companies considered project sourcing and interim management a necessary evil but today a lot of them are incorporating project sourcing and interim managers into their strategic workforce planning. It's a way to make your organization more agile while benefiting from the unexpected insights and market knowledge these outside experts bring. And let's not forget the financial benefits, like avoiding recruitment costs, training costs, the cost of a "wrong hire" and so on. Project sourcing offers the opportunity to attract expertise without bearing the risks and costs of a direct hire."